Sustainability
We are committed to the future, therefore Sogevinus' practices are environmentally sustainable, guaranteeing an adequate preservation of resources.
We have planted indigenous plants between the rows of vines, which form ecological corridors and favour Douro's natural ecosystem, preserving the natural landscape and species of the region.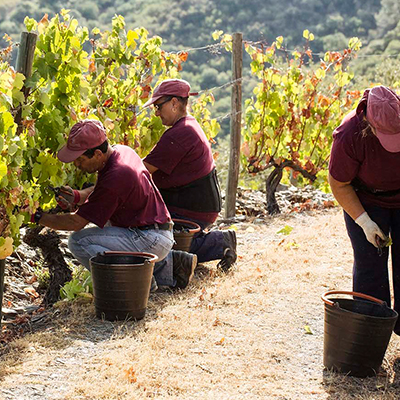 Ecological corridors
The need to constrict the use of pesticides in the vineyard – reducing costs, decreasing the levels of chemicals in the wine and protecting the environment – have made us focus on measures that aim to increase the activity of the natural enemies of the vines' pests. We are committed to this and are investing extensively in this area.
The aim is to provide those natural enemies the necessary resources to survive, multiply and act effectively on the vines' pests. Those resources include food (nectar, pollen and prey, or alternative host) and shelter during periods when the environmental conditions are adverse. That is ensured by planting and maintaining in the plot or in the vicinity specific ecological structures that are able to increase the vineyard's biodiversity.
Sogevinus has been working with teams from the University of Trás-os-Montes e Alto Douro and the Association for the Development of Douro's Viticulture (ADVID) to develop, for each of its four properties, the adequate ecological structures (bush, woods, water lines, thicket, stone walls, etc.) that can have a positive impact on the vines.
The choice of the ecological structures takes into account several goals, such as landscape benefits and preservation of habitats for indigenous endangered or rare species of plants, birds, insects, small mammals, amphibians and reptiles.
These structures are then set up, forming what is called ecological corridors. They might include not only indigenous vegetation, but also the rehabilitation or placement of other elements, like lawns, ramp covering, loose stone walls, water lines, hedges etc.)
Pioneers in avoiding aggressive chemical treatments
Aiming to reduce the usage of pesticides in the vineyard and to increase biodiversity, we have been using a technique we call "sexual confusion" to protect the vines against the grapevine moth. This technique consists in diffusing a compound similar to the pheromones issued by the females of the insect, which causes disruption in the communication between male and female specimens, preventing them from mating and therefore laying viable eggs.
In the Demarcated Region of Douro, Quinta de S. Luiz was pioneer in using this innovative method, which began in 2000 and is used across 90 hectares of vines. Besides being safe for humans and non-pollutant, the sexual confusion technique is also environmentally interesting because, unlike the chemical insecticides, it does not interfere with the natural enemies of the vines' pests.
These practices have proven sufficient to keep down the outbreaks of the grapevine moths to levels that make the use of insecticides unnecessary.
Find out more about this technique
www.advid.pt/CSinDouro